Pergolas
Without any doubt, the pergola belongs to the highly distinctive space-forming elements of the garden. It is often built above the terrace, but we like to see it as a simple construction delimiting space anywhere within the garden.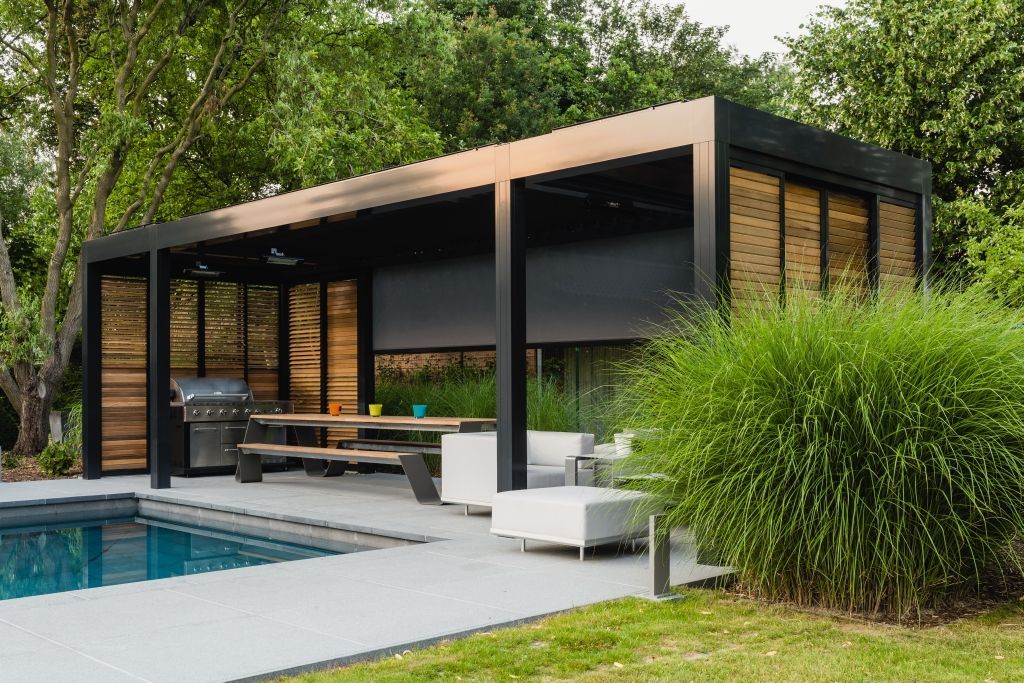 It should match the house, its architecture, style. If it is huddled directly with the house, it expands our living premises with another room. In such a case, however, it may significantly change the overall expression of the building, so you should always consult with the house architect regarding its dimensions and material design.
Popular are pergolas made of solid wooden beams, but these are usually appropriate for timbered houses. For the construction of contemporary architecture, we personally recommend a rather dark matt metal (possibly even unobtrusively combined with wood), which looks more subtle than wood and can blend nicely with the garden. If it is all made of wood, we prefer simple slender wooden columns (for example larch), which become over time pretty grey and look unobtrusive. Metal ropes with climbing greenery are sufficient to fill the upper horizontal structure.
For pergolas (if we can call it so without the above structures), no roofing is necessary. Treat yourself to the view of the open sky above your head and maintain the airiness of the terrace. You can use the pergola design wittily to hang various relaxation nets, hammocks, swings and ropes.
Actually, the pergola can somehow replace the feeling of sitting under the tree crown, in a green, flighty shadow.
It is also interesting to let the pergola grow with deciduous plants, which in the summer add much-needed shade, and in the winter, when light is scarce on the contrary, let the sun into the interior. A practical variant today is a very popular construction with the possibility of full roofing and side shielding.